In the spring of 2019, the Northern Michigan Foundation (NMCF) distributed $25,500 from the Arnold Ochs Cornerstone Fund to all seventeen Catholic schools in Northern Michigan. Notably, these School Grants were the NMCF's first unrestricted grants, which allowed the schools to freely determine how the gift should be used to support Catholic education. Blessed by the generosity of donors, the NMCF is honored to support Catholic schools, which enrich and shape the future of our Church and our world. These unrestricted grants have given schools the freedom to allocate the gift towards their specific needs. Schools have since used the 2019 grant money to augment tuition assistance programs, improve technology, provide spiritual resources for students and teachers, and purchase curriculum materials, among other uses. 
As we prepare to announce the 2020 School Grant recipients, the NMCF reflects on the 2019 School Grants and the impact of these grants on Catholic education across Northern Michigan. Now, a year after receiving their 2019 grants, three schools share the positive impact of this grant program on the quality of Catholic education at their school. Each school used the money differently, but all agree that students immeasurably benefit from gifts to Catholic schools.   
In West Branch, St. Joseph Catholic School directed their grant money towards the religion curriculum at their elementary school. This project included supplementary K-5 classroom materials such as Bibles, early elementary resources, additional faith formation for teachers, and three ChromeBooks used by older grades for online daily scripture readings and research. Principal Penny Clemens emphasized the importance of religious education in elementary education, saying: "Faith is a part of everything. We need to be giving our students a foundation for what and why we believe, coupled with a tangible experience. We need to educate the whole child." The grant money aided in the establishment of that foundation in faith for St. Joseph elementary students — an investment with personal impact.  
Clemens also expressed deep gratitude to donors to Catholic education. "When we put your money towards educating the children, it goes full circle. What we give to the kids and what they get from Catholic schools will affect their lives. We're working on the future of the church." 
In Cheboygan, Bishop Baraga School used the grant money to provide qualifying families with scholarships towards tuition. Principal Kitty Lablance explained that families who met certain criteria could apply for these scholarships, which differ from need-based tuition assistance. These scholarships are made available to families actively involved in the parish and school communities. 
This scholarship addresses the communal and familial aspects of Catholic education. Lablance views Catholic education as "laying the bricks for foundation in the family —  not only the student's own family, but also the school family." And, as the scholarship fosters familial engagement with the faith through parish life, students and their parents benefit from the gift spiritually and financially. "Setting up a scholarship that draws families to be a part of the parish communities has also helped improve the altar serving program and children's ministry," Lablance said. 
Scholarships like this help to lower financial barriers to Catholic education, increasing the feasibility of faith-based education for many families. "If parents are aware that there's another piece that can help them, maybe it's not such a hard decision to come to a Catholic school," said Labance. 
St. Francis High School in Traverse City used the grant to fund the annual junior class March for Life trip. Saint Francis frames this trip as a pilgrimage, seeking to combine sacramental opportunities, spiritual formation, and civic engagement. Money from the NMCF made the trip more accessible to students by lowering the cost. 
Wayne Mueller, the school's Director of Advancement and Foundation, emphasized the importance of an experience like the March for Life, which enhances the lessons taught in the classroom. As an intersection of religion and public action, this opportunity allows students to apply the lens of Catholicism and human dignity in the context of a nation-wide political movement. Mueller says of the experience, "This allows students to think about how their personal faith translates to the broader community. It shows that your faith isn't just something that you hold, it's something you act on." 
Life-giving experiences like the March augment the Catholic values instilled in the classroom. Mueller reflects, "We're giving students some armor to go into the world, especially into college, which isn't as pro-life. We're investing in a trip that helps students to maintain not only their faith, but also their passion for the unborn. There's something about being in the middle of the March for Life that never leaves you, and a capstone memory like this in high school stays with a person their entire life, even if they don't realize it." 
All three schools, among the other grant recipients, perceive the longevity of investments in Catholic education. Gifts like these unrestricted grants create a ripple-effect through the schools, impacting students, teachers, and families in a multitude of ways, many of which are unmeasurable. One thing, however, is clear: the combination of faith, academics, and personal experience greatly affects students, strengthening their foundation in Catholicism and their formation as members of society. 
NMCF is committed to increasing the availability of unrestricted grants through partnership with donors. As donors continue to generously contribute to these unrestricted funds, NMCF can continue and increase our support of Catholic education across Northern Michigan. Through partnership with these schools, we understand the specific needs of the schools, and unrestricted grants give us the freedom to address their unique financial concerns. NMCF strives to increase our unrestricted grants so as to better support the impactful work of Catholic educators committed to planting the seeds of the faith in the hearts and minds of our children.
St. Francis students marching with homemade signs.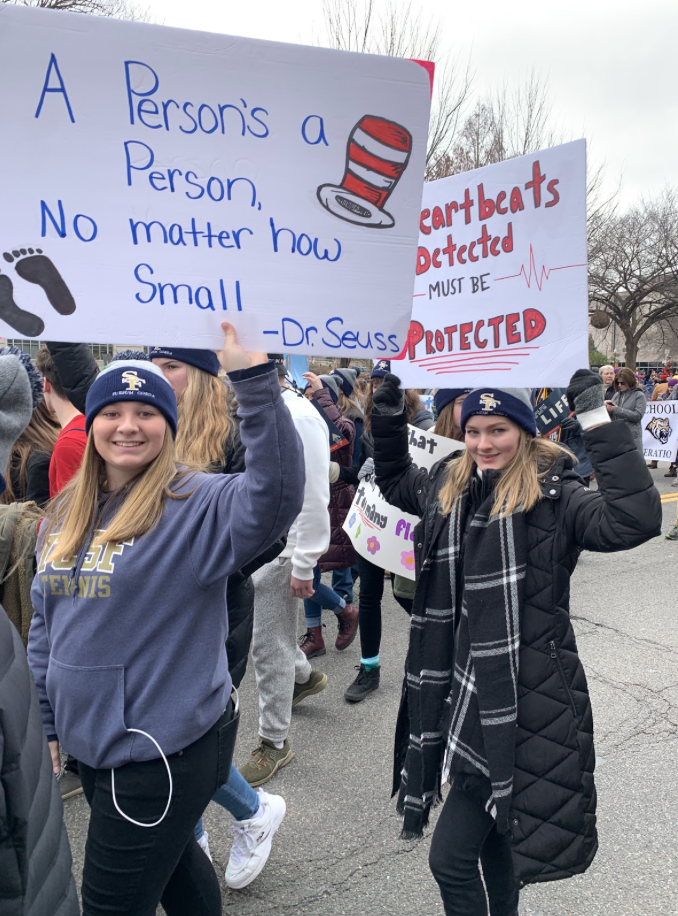 The Saint Francis junior class in Washington DC, ready to march for life!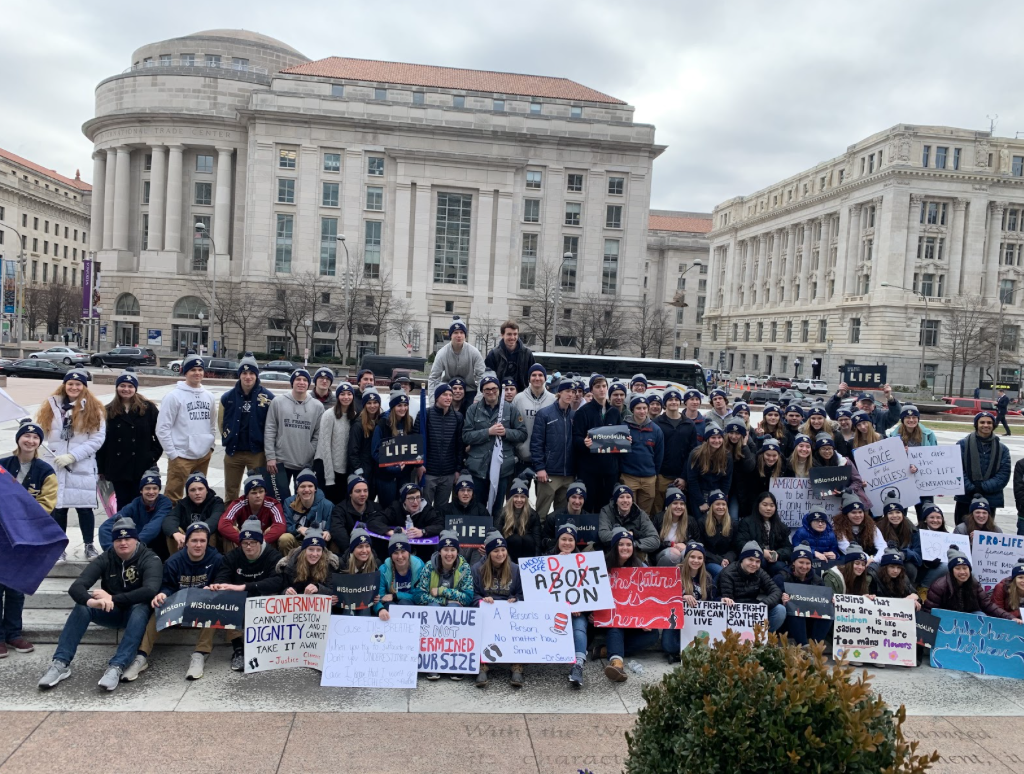 St. Joseph students and teachers with Bishop Raica.