The Northern Michigan Catholic Foundation Awards More Than $25,000 to Local Catholic Schools
April 5, 2019
The Northern Michigan Catholic Foundation announced this week that they have awarded a total of $25,500 to local Catholic Schools in northern Michigan, this includes a grant of $1,500 to every Catholic school within the northern Michigan Catholic community. This grant award marks the first unrestricted grants from NMCF.
Read the full press release here…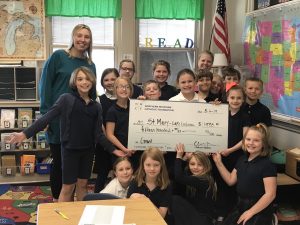 2019 NMCF SCHOOL GRANT AWARDS
All Saints Catholic School-Alpena: Assist with technology needs of the school.
Bishop Baraga-Cheboygan: Help families needing tuition assistance in the 2019-2020 school year.
Holy Family-Tawas: Assist with our Scholarship and Aid Program.
Immaculate Conception-Traverse City: Design, production and installation of the brand new stained glass window above the new Immaculate Conception Elementary School's front entrance.
Manistee Catholic Central-Manistee: Help with building improvements.
Our Lady of the Lake-Prudenville: Added to other recently donated funds to find a used, but newer school bus.
St. Ann-Cadillac: Allow us to purchase the necessary materials (e.g. new Religion textbooks and materials, teacher computer, student iPads, etc.) for the newly reinstated 7th grade class.
St. Elizabeth Ann Seton-Traverse City: Help with the cost of the St. Elizabeth Ann Seton Middle School Retreat to take place in March of 2020.
St. Francis High School-Traverse City: Assist with costs associated with the annual junior retreat to Washington, DC for the March for Life in January.
St. Francis Xavier-Petoskey: Directed towards classroom technology improvements to defray the cost of short-throw projector installations.
St. Ignatius-Rogers City: Improve school safety with a fixed electronic lock entry door.
St. Joseph School-West Branch: Help with the cost of Religion Textbooks that will align with the Diocese of Gaylord Curriculum.
St. Mary Cathedral School-Gaylord: Help install a new fire suppression system.
St. Mary Hannah-Kingsley: Aid in marketing.
St. Mary School-Charlevoix: Update and improve technology in our school.
St. Mary School-Lake Leelanau: Aid in the purchase of a new elementary science curriculum.
St. Michael Academy-Petoskey: Defray the cost for St. Michael Academy's Annual Mission Trip.
Awarded $1,500 to 17 schools, total grant award from Arnold Ochs Administrative Fund $25,500.
Principal Quotes:
"Your gift is a blessing to help with this purchase. We are hopeful to implement the new curriculum this summer to begin the upcoming school year. Thank you!"
"Thank you for this wonderful surprise gift! This is truly appreciated."
"What an incredible and unexpected blessing.  This will help ease the financial burden on a most deserving family!"
"Thank you for supporting our school."